Besanosaurus



Kingdom:

Animalia

Phylum:

Chordata

Class:

Reptilia

Order:

†Ichthyosauria

Family:

†Shastasauridae

Genus:

†Besanosaurus

Species:

†B. leptorhyncus (type)
Besanosaurus was a genus of Ichthyosaur from the Triassic Period.
Description
Edit
Besanosaurus was a medium sized ichthyosaur measuring 6 meters (19 feet) in length. Its body was a similar in shape to that of a dolphin. Besanosaurus had a long, thin snout, and relatively small teeth. Like other Shastasaurids, Besanosaurus lacked the dorsal fin found in more advanced ichthyosaurs. It had a straight tail and therefore, would have swam with an eel-like motion at moderate speeds through the Triassic seas.
Like all ichthyosaurs, Besanosaurus was carnivorous, preying on cephalopods and small fish.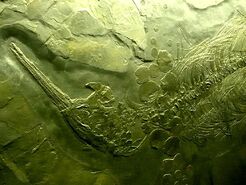 Ad blocker interference detected!
Wikia is a free-to-use site that makes money from advertising. We have a modified experience for viewers using ad blockers

Wikia is not accessible if you've made further modifications. Remove the custom ad blocker rule(s) and the page will load as expected.